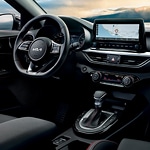 Good safety features in cars are essential to the driver's safety and the safety of all passengers.
One of the most notable features of the 2022 KIA Forte is the adaptive cruise control, which maintains a set distance between the Forte and the car in front of it. It is particularly useful when driving on long journeys or in heavy traffic, as it constantly removes the need to adjust your speed. The Forte also comes with a Blind Spot Monitor, which uses sensors to detect vehicles in your blind spot and alerts you if it is unsafe to change lanes.
The front and rear collision prevention systems help to protect passengers in the event of a crash, while the lane departure warning system alerts drivers if they begin to stray from their lane. In addition, the KIA Forte is equipped with several airbags, including side-impact and passenger-side airbags. As a result, passengers can rest assured that they are well-protected in the event of an accident.