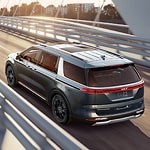 The interior space of a 2022 Kia Carnival is a major attraction for customers in Warwick. Customers at Bald Hill Kia appreciate the three rows of seating. The seats are great for customers who have families, but if you prefer extra cargo space, the Kia Carnival's seats fold down. With folded seats, your cargo space can go from 40.2 cu. ft. to 145.1 cu. ft. This extra space is typically used for luggage, camping equipment, or sports equipment.
Customers also appreciate the interior upholstery. The Kia Carnival gives you the option to upgrade to leather upholstery if you prefer extra comfort. You can also include an optional panoramic sunroof to improve the view of the night sky.
The interior of the Kia Carnival also includes entertainment upgrades. The vehicle includes an eight in. touchscreen and the ability to connect to Apple and Android devices. The Kia Carnival also includes Bluetooth connection and six speakers.