ALL GENUINE KIA BATTERIES INSTALLED FOR ONLY $109.99
excludes hybrid, Borrego 8 cylinder and idle stop and go.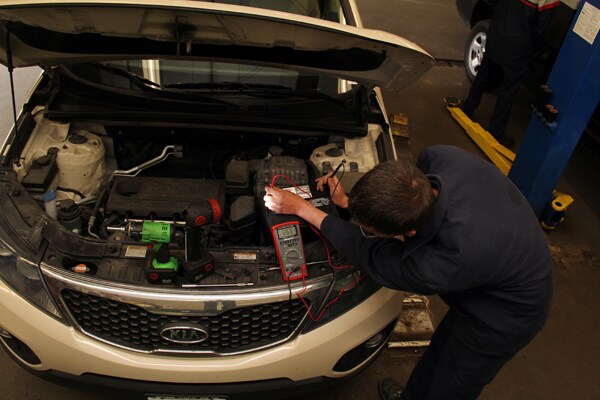 7 SIGNS YOUR BATTERY NEEDS REPLACING
Your battery/charging system light is illuminated
Your dashboard lights dim when you start your vehicle.
Your engine cranks slowly.
Your headlights look dimmer than normal.
Your headlights look dim while idling, then get brighter as you press the accelerator.
You hear a clicking noise when you turn the key.
Your battery is more than four years old.
Bald Hill Kia-Where Certified Mechanics Run Diagnostics and Replace Batteries to Keep your Vehicle Running at a High Level
Everyone knows that a vehicle relies upon a battery for power, thus making the charge and overall status of this main component in your car all the more important. With an unreliable battery, your vehicle is at risk and can even end up broken down on the side of the road if not addressed immediately. That is where the service team of Bald Hill Kia comes into play, as our factory-trained technicians can help you avoid the common pitfalls associated with battery failure.
If you notice one of the seven signs above regarding a battery replacement, then our service center in Warwick will be the first place you want to visit for an appointment. With cutting-edge equipment, our expert mechanics can run comprehensive diagnostics on your Kia model. With this analysis, a plan can be put in place to both replace and install a genuine Kia battery into your vehicle. With a fully charged, new battery underneath the hood of your car, you can boost your confidence for future driving adventures.
Dealership Service Benefits at Bald Hill Kia
And what else can we help you with while here, you may wonder? There are plenty of dealership service benefits that we would love to go over with you, such as the genuine OEM Kia auto parts that we use. We are proud to provide elite quality care to all of our customers. Make your next maintenance appointment with our team today and allow us to take care of your prized four-wheel investment.