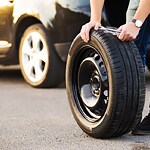 You are likely to have a spare tire that can save you having to call a tow truck in case of a flat. However, you should know whether you have a compact spare tire or a full-size spare tire. Knowing the difference is extremely important.
A compact spare tire is also known as a "donut." These small tires are not designed for highway driving. You should only use these compact spare tires to drive to a location where you can get a full-size spare tire. A full-size spare tire is the exact same size as your other tires. With a full-size spare tire, you can drive over a long distance, at highway speed.
At Bald Hill Kia, we offer one of the widest selection of full-size spare tires in the Warwick area. Our tire inventory includes many sizes and styles. We can offer you any of our full-size spare tires at competitive prices.